Posted in
Favorite
,
Skate Journal
on May 20th, 2013 by corpo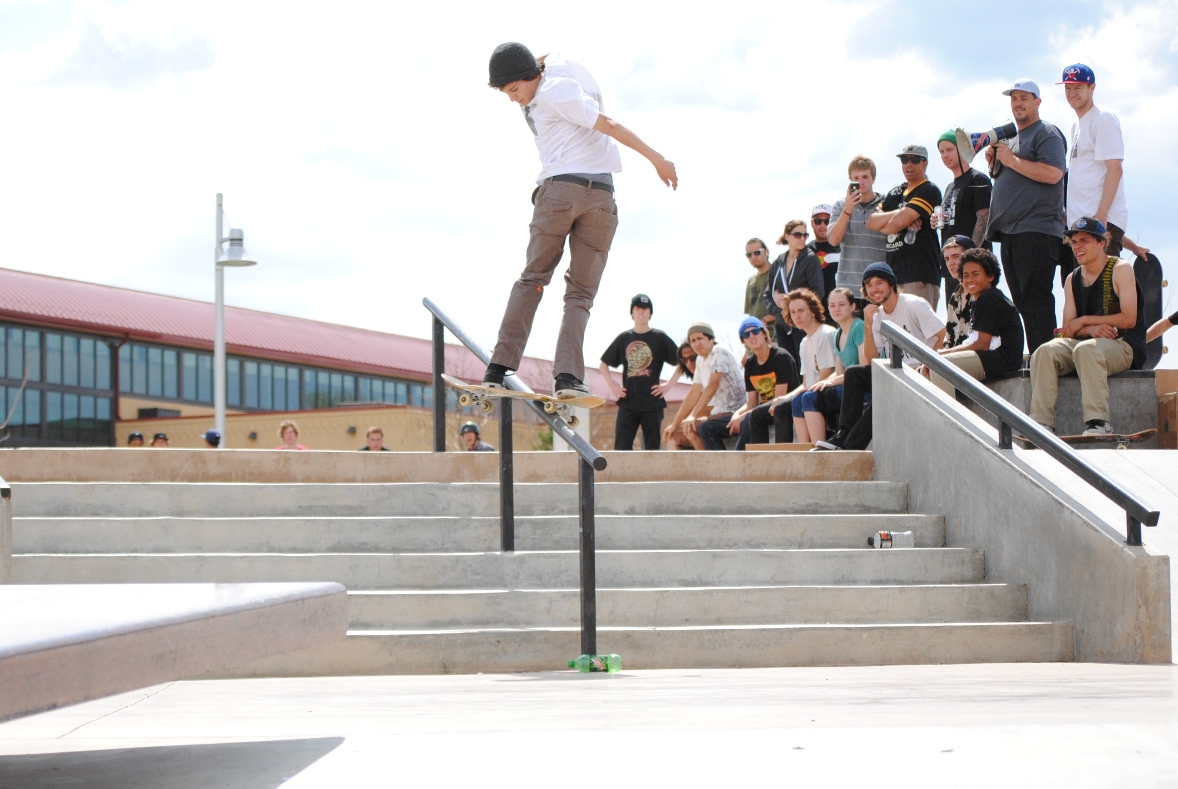 Another fun morning that started watching Ollie's flag football game. I had some minor food poisoning the night before so was feeling pretty exhausted and drained. Showed up late for Skateshop appreciation day, but managed to still have fun. I basically just skated the tiny qp at the top of the park with Derek, Jack and Carleigh for awhile, then "judged" people jump down the rail/stairs (Yeah Jack!) and on the 13 foot qp.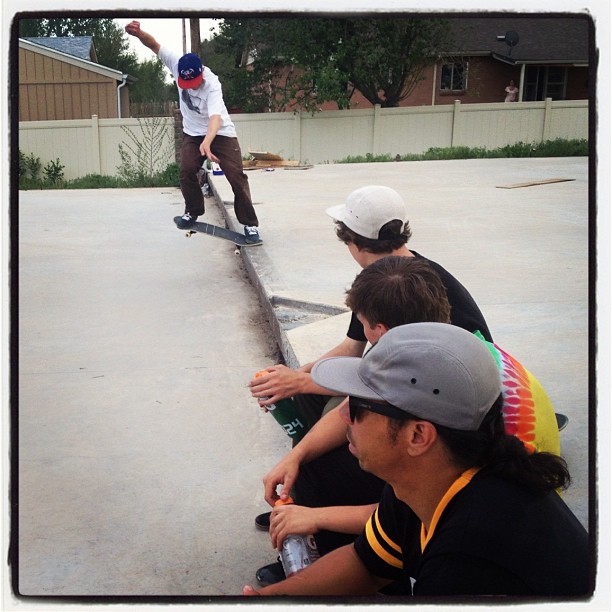 Then we went to this awesome spot. There are five levels each with the same size ledge/drop between them.
Some had stuff down them, some didn't.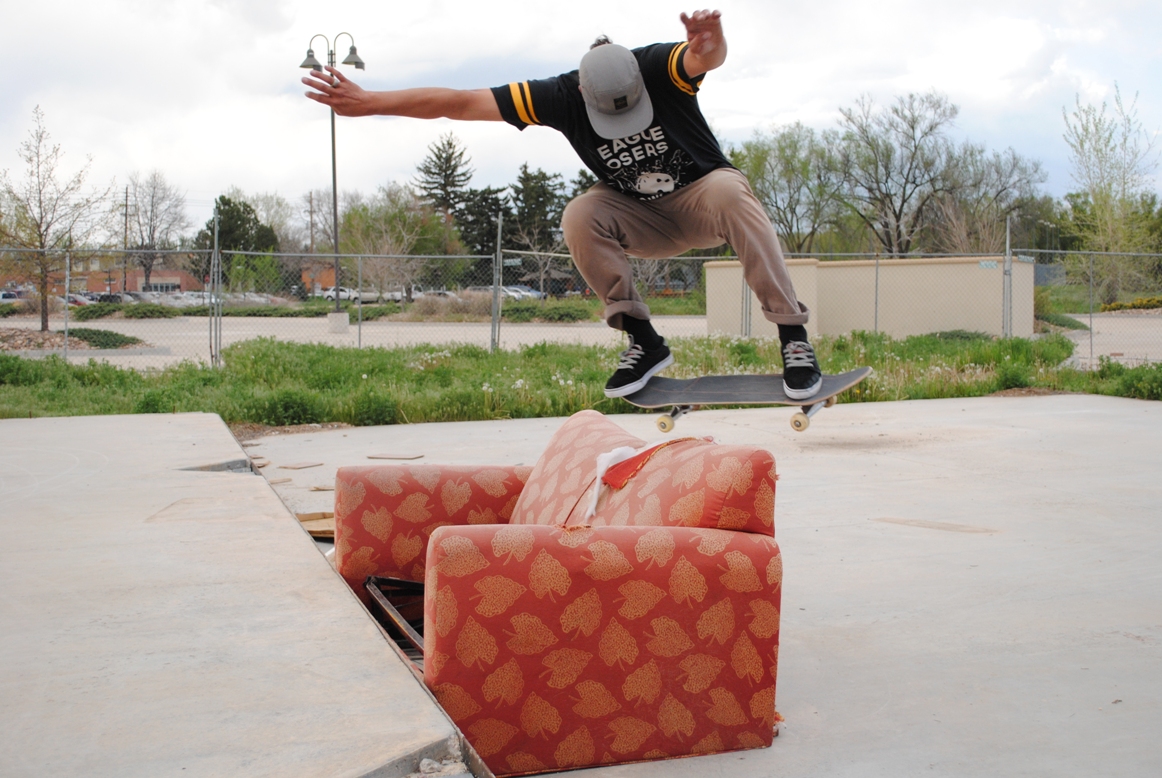 We stayed here a really long time. The crew was pretty big. Fuzz, Jack, Carleigh, Blaine, Justin, James, Rho, Neil and Chase. Carleigh took quite a few awesome photos here. I'll mostly just talk about the older crew because listing everything is already an impossible task. Justin filmed a rad line. James rips, slams hard and did a front tail 270 shove down the metal shelf ledge. Jack slammed hard several times right out of the gate so made the wise choice to show some restraint and just chill. I should mention that Jack and I were twins for the day as we both had JAM shirts on and Null 10 year decks. We're cute like that. Neil skated way longer then his normal 20 minute max. 50s down the metal box, crooks shove on the ledge, halfcab up like it was nothing, lipslides. John went to work on a line pretty quickly and spent most of his time working on it. Front 180 up, fakie flip on flat then front shove front noseslide to fakie. So sick! Fuzz ripped it. Front 180 up, sw 180 a little hole, nollie front tail. Back 180 up, back 50 up the metal ledge, back 50 front 180 out up the metal ledge, fakie nosegrind 180, fakie 50 halfcab out on the ledge. Yeah, killed it. Carleigh skated a long time. I saw some kickflips and front 50s early on then she tried back hurricanes for a long time. I'm not sure how many total she got, but I saw at least one make. So sick. That is not a trick I've seen done on regular ledges too many times. Or ever. Rho is Crisis' newest team prospect and the kid rips! Back 180 nosegrind down the metal shelf, front noseslide up, back crooks up and down, back smith up. Full on shralping. I felt like I was struggling initially, but after getting a kickflip up one of the levels I started to have the time of my life. First line I got was kickflip up, front 5-0 shove then front shove off. Another was kickflip up front 50 front 180 out, halfcab flip on flat then kickflip off. Front 180 up, halfcab flip on flat, front 50 back 180 out (so bad) then a slow and not popped fakie bigpin down. Tried some more lines, but didn't really combine them til later. Did a few crooks, back 50s, front 50 to front board, some bad kickflip back 50s (almost locked into 5-0 on a few). Near the end I went up top then kickflipped down all 4 in a row. This was probably the highlight for me. No the kickflips weren't gnarly at all, but to do 4 kickflips down something in a row first try felt amazing. At one point I ollied a little shopping cart on it's side as I couldn't get the courage to try ollieing over the couch. Last thing I did was a line of front 5-0 , boardslide down the metal shelf ledge and finally kickflip the next drop. I had cracked my tail previously on a kickflip down (and somehow everyone else but me knew that? ha) and that kickflipped finished off the tail. I gave my board to Jack to have him take out his frustrations with the spot and he put it out of it's misery. What a fun spot. Not sure it could every be as fun again, but man for this session it was amazing. I guess I like the cupsoles and I wasn't very sore after all that. After we had a nice dinner at the Dark Horse then did some beer drinking at the Outback to celebrate Jason's girfriend Lindy turning 30. Happy Birthday!