Posted in
Colorado Skate Videos
,
Concert Reviews
,
Dinosaur Jr is the greatest band ever
,
Music News
,
skate video reviews
on April 30th, 2011 by corpo
Liz and I went to the early showing of this video. We met up with Fuzz and Carleigh after some dinner with Darin and posted up next to one of the stars of the night, Shad. It was rad. Lots of teasers including a new Null one. The video itself was awesome. Not a hammer video with lots of raw street skating that can be viewed over and over. I can't wait to get a copy of it. Liz and I bailed as soon as the credits started to get to the J Mascis show.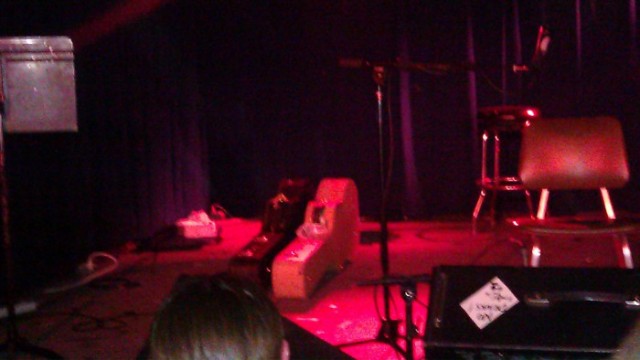 We said a quick hello to friends then posted right up front. I laughed as J's guitars were brought to the front with the airplane tags still on them. Kinda hard to see in my cell phone photo above, but we shared a laugh with the guy next to us who might even be a bigger J Mascis nerd than me (not possible). The fire alarm at the Hi-Dive was going off which was pretty annoying.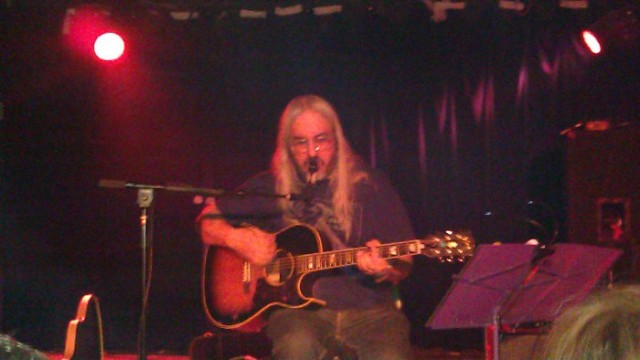 J was walked up front looking frail and awkward and after a quick "Hello" busted right into The Wagon. Pretty much my favorite song ever. Although I'll admit that's one of those songs that benefits from the added noise of the whole band. Next up was Listen To Me off the new album and then Several Shades Of Why. Several Shades may have been my favorite song of the night. Then he went on to play mostly oldies including classics like Alone, Get Me, Ammarring, Quest. Oceans In The Way had one of the loudest crowd responses which kind of surprised Liz and I, but is just more evidence that Farm is one of their finest. I was surprised and excited to hear Not The Same. Not Enough went off. Flying Cloud is another runner up for my favorite song of the night. The encore was Raisons then Repulsion I think. The show was great. The only thing that takes away from it to me is this was the Several Shades Of Why tour and he only played four songs from it. A couple more would have made this show beyond epic to me. That being said, it was still a totally awesome show and J Mascis cannot be touched. After the show I went to get a t-shirt, but they had all sold out except one size large and a bunch of XXL (I'm not Mikey). Doh. Read a better review and see better photos at heyreverb.com.
Tags:
303 boards
,
colorado
,
colorado skateboarding
,
concert
,
denver
,
dinosaur jr
,
hi-dive
,
j mascis