Posted in
Me Me Me
on October 28th, 2011 by corpo
I'm on a real bad run. Last week was the flu, this week it's an unexplained arthritis flare up that the doctors can't explain yet. This week has been pure hell. It started Sunday afternoon with aches and pains which continued into monday. Monday night my pinky toe on my left foot turned bright red and hurt so bad I could not sleep. Tuesday I went to urgent care and they said it was an infection. They pumped me full of antibiotics. Went back Wednesday and it was a tiny bit better, but they still pumped me full of antibiotics. They drew lines on me where the infection was and said if it goes beyond these lines to go to the emergency room immediately. I went to work. Got home and checked and what do you know the red was way beyond the lines and now in my left wrist and right ankle. Ugh. Went to ER where they put me on IV antibiotics as seen above. They still thought it was an infection and they made an appointment for me the next day to see an infection specialist.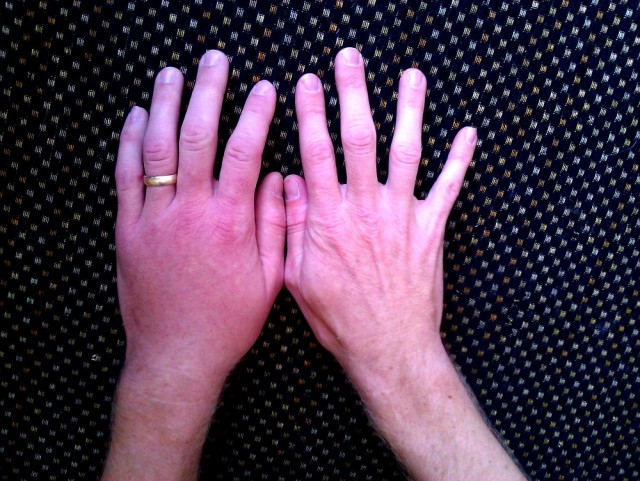 That night my wrist starting hurting in ways I cannot describe. It might be the most intense pain I have ever felt. I was taking three different antibiotic prescriptions between urgent care and ER. I went to my appointment at the infection specialist. Within a few minutes of looking at me he says it's not an infection and setup an appointment for me with and arthritis expert. He said to throw away the antibiotics I was taking. WTF! Ugh! I go to the arthritis guy and my hand hurts so bad it felt like somebody was constantly hitting it with a hammer. Or maybe even a sledgehammer. This guy says I'm finally in the right spot and says it is arthritis related. He doesn't know what though. They take more blood, take fluid from my knee and collect a urine sample to try and figure it out. He prescribes me some anti-inflammatory steroids and Vicoden (yes!!!) and says he'll get back to me with the lab results. I leave and while I'm waiting for the prescription the pain was so insane in my left hand I couldn't believe it could get worse.
So here I am four days after going to urgent care and I still don't know what's wrong with me. I'm waiting to here from the arthritis guy. The pain in my hand has gone down a little bit, but it's still unbearable. My left foot, right ankle, left knee feel better. Thank god for vicoden.