Posted in
Skate Journal
on December 31st, 2011 by corpo
Taking two days off of skating seems to do the trick for my arthritis. I felt pretty good in the morning and was getting really excited to go skate. I've been thinking about downsizing from 8.25 to 8″ again since I've lost so much strength/coordination and the 8.25 feels big and clunky. Not so much the board, but the bigger trucks. So I found an old 8″ board that was in decent shape, some old 8″ trucks and rolled around on Rampy with it for a bit. Felt good. Went outside and tried a few ollies and stuff and yeap, that felt better too. Even got a fakie flip which I haven't landed since the "injury". So my mind was made up, time to go back to 8″. Now my OCD was kicking in and I didn't want to skate the old 8″ deck I setup mainly because it has a different shape than the new Null 8″ shapes. I didn't want to get used to it then have to change to the new shape. I also didn't want to skate the old trucks as they were almost down to the axle and the kingpin was in the way for grinds. So it was a quick trip to Meta to get some new trucks and setup a new board. I got some Thunder hollow lights just so Brian can make fun of me for thinking that lighter trucks are indeed lighter than regular trucks.
Brian and Neil were headed to Northglenn, but I had Ollie and he didn't want to go to a crowded park. Good kid. We went to Southern Hills instead where there was some puddles/snow, but for the most part you could skate everything. The arthritis gel I put on started burning like crazy once my feet got sweaty. It's so funny to think that a burning sensation is desired over the normal pain, but it seems to work. I started trying a long line consisting of ollieing onto the ledge by the bike racks at the top, ollieing off over a little puddle, chinese nollie, no comply 180 into the bank, halfcab flip on flat, front noseslide for Jason. The halfcab flip was the toughest part of that one, but I got one and managed to land a bad front nose on that run. I was super duper hyped on that line. Big smile, laughing and so happy that I was actually skating. After that I waxed up the lower step and did another line of front tailslide (I actually slid several!) then crooks on a bench, kickflip on flat then boardslide another ledge. That one hyped me up too. Ollie was cruising around doing back 180s everywhere. He slammed pretty hard off the two stair once and after that just kinda started playing around throwing snowballs. I started trying another line of front slappy on the yellow curb at the top of the parking lot, front 180 onto the sidewalk then f/s halfcab into the bank, but it just kinda fell apart after I started struggling with the slappy. Carleigh showed up and was doing her skate rehab of switch and nollie tricks. I did a few more tailslides on the curb and some noseslides on the bench. Sure is fun to dork at a street spot instead of a crowded skate park.
Carleigh and I left to meet up with Derek and skate downtown Denver. We picked Derek up at D park without even getting out of the car then headed downtown and parked on top of the hill on 12th. That hill bomb is soooo fun and a great way to start off the session. I was already pretty beat from more ollies then I've done in months, but it worked out surprisingly. We started off at the art building that is insanely fun. Derek killed some manuals out da gates. I was trying a little line of a boardslide on one bench then a manual on the low to high ledge. Almost got it, but we got the boot. Next we went to the fountain area at civic park. We were all just kinda messing around. I was struggling to ollie up the two stair ledge. All of this ollieing is tough. Ha. I was trying a line of ollie up the two, push, roll off the two then ollie into the fountain. I bailed the ollie several times as it was just so foreign to be trying any type of a gap. But then Carleigh did her first kickflip since breaking her foot and I had to get her back and I got the line. Stoked!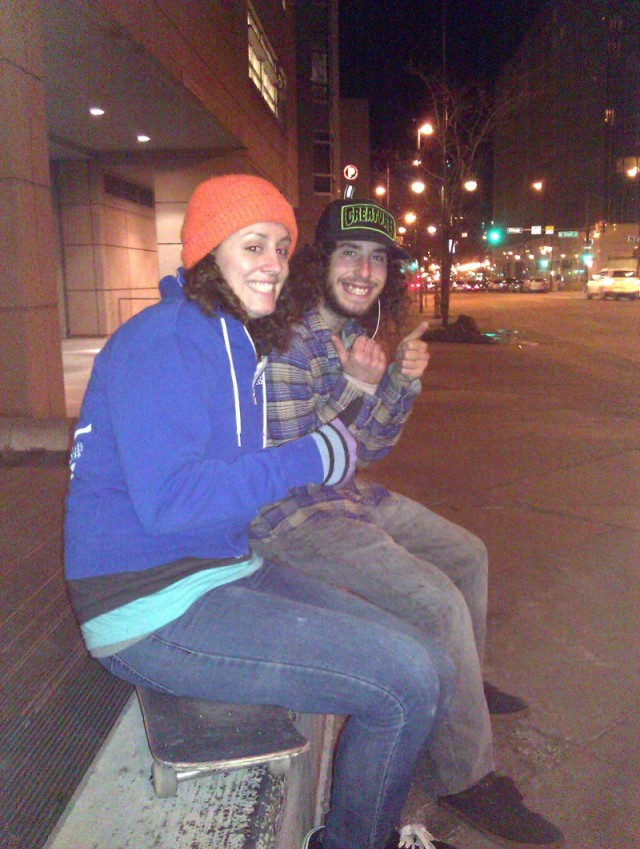 We went to this area for a bit. Not much went down. Carleigh wallied out of it on the low side. Derek tried to front 180 nose manual with a pop out. Didn't get close but wow. I was just happy to ollie the little flat gap on top of the ledge around the corner. We randomly found a marble ledge nearby and skated it for awhile. Derek did some sick gap over to 50s and I did some slow front board to fakie transfer attempts. Derek also manualled it somehow. We pushed on. I did a lot of switch pushing. We headed toward Petes for dinner. I don't think we skated anything else really. Just pushed and had fun. After Petes we took the bus back to the top of the hill and I snapped a couple phone photos near the capital.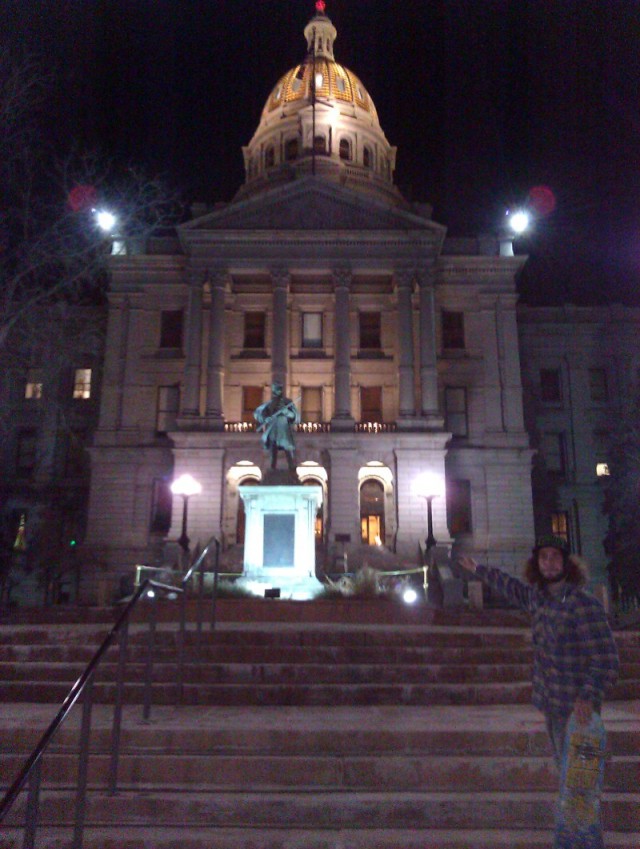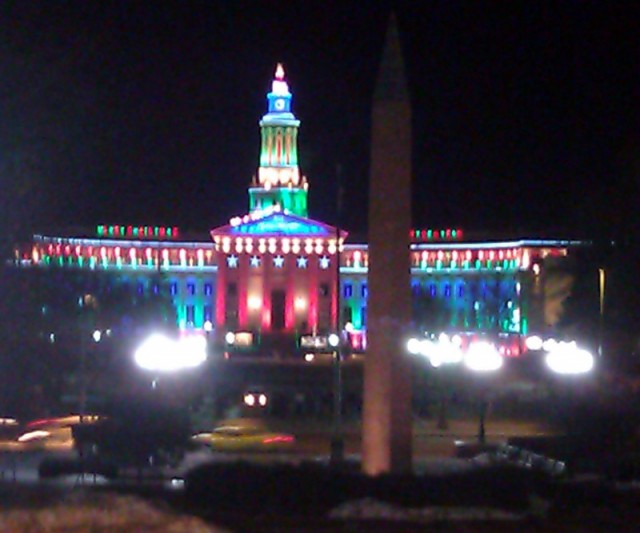 But the skating wasn't done, then we went to the ollie north glen park and met up with the fort collins and sunny daze crews for a super fun session. Derek killed it. Ripping, laughing and hyping and so many tricks it's impossible to list. The back smiths in the bowl, ollie the whole pyramid, handrail lines were crazy. Carleigh was looking comfy on her board and did pole jam rock fakie, front tails on the hip, dropin on vert, and some noseslides. Mike was ripping so hard. He's only 35 though so I guess he still can. Tanner and Jess were ripping too. They can shred the street and the bowls. Daryl skates so fast and has the best style. Chad pops his tricks so high. The f/s flip on the bank was crazy. I kinda just rolled around for the most part. Slammed the hardest I've slammed in a long time trying to boardslide the ledge. It still hurts more than normal to fall and it takes awhile for the arthritis pains to calm down after a bad one. At the end I was hyped to get a grind on the rainbow qp then a little pivot revert on the tiny bank. Had so much fun. Best day of skating in so long. So much fun. Sorry this entry is so long and boring. Seeing as how it's so long there is no way I'm proofreading it. Ha.