Posted in
Skate Journal
on July 12th, 2012 by corpo
So this blog was supposed to be more then it is. It was supposed to be video clips all the time, Colorado skate news galore, Dinosaur Jr news and my skate journal. Well thanks to Four, Null, family, work, etc lately it's only been my skate journal. Sure it's a little weird writing about my own skating all the time, but I'm doing this for me. I don't want to forget these awesome days I am so lucky to have and I want to be able to read about days like this 20 years from now. Anyways, with that said, I had a horrible day at work and decided I would rather go skate with my headphones cranked up then drive to a ramp I've never been to before and watch Lifeblood/wizards rip. I was right. The kids were gone and Liz realized I needed some space as I watched the new Almost video (pretty good) then Quik (totally amazing) yet again then got on my bike and rolled to campus. I should almost call this entry "Dumb shit that only I would skate", but there might be like two other people out there that would be down. Probably people that read this. Ha.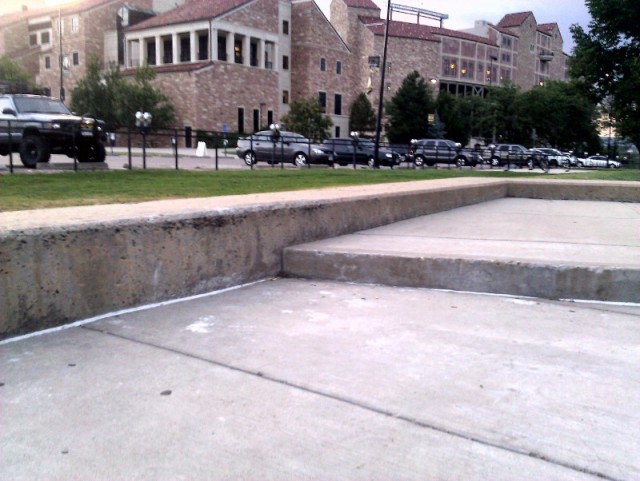 Lately I've been in this slappy noseslides for warm up mode and this little ledge peaked my interest. First try was a switch noselide which worked. Then front nose fakie. That worked too. Slappy front tail took a few tries, but got it. Noseslide to fakie up. This ledge slid a little, but not really. Front tail down. Front 5-0. Switch boardslide down (whoa!) and finally a front tail shove that slid. Good warm up for me! I should mention that there is no runway really for this, only what you can see there. One push.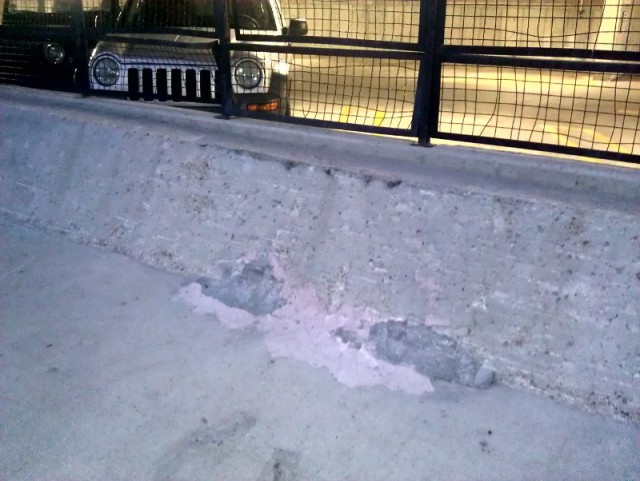 Then I got some water in the engineering building and cruised downhill cracking little ollies and powerslides til I ended up here. Did wallride, rock 'n roll slide, feeble and several treflips on flat. I started trying crooks since I can slappy them on curbs now and a few tries later got one. It even grinded. Might be cool to film that for Off The Couch 2 With A Vengeance sometime.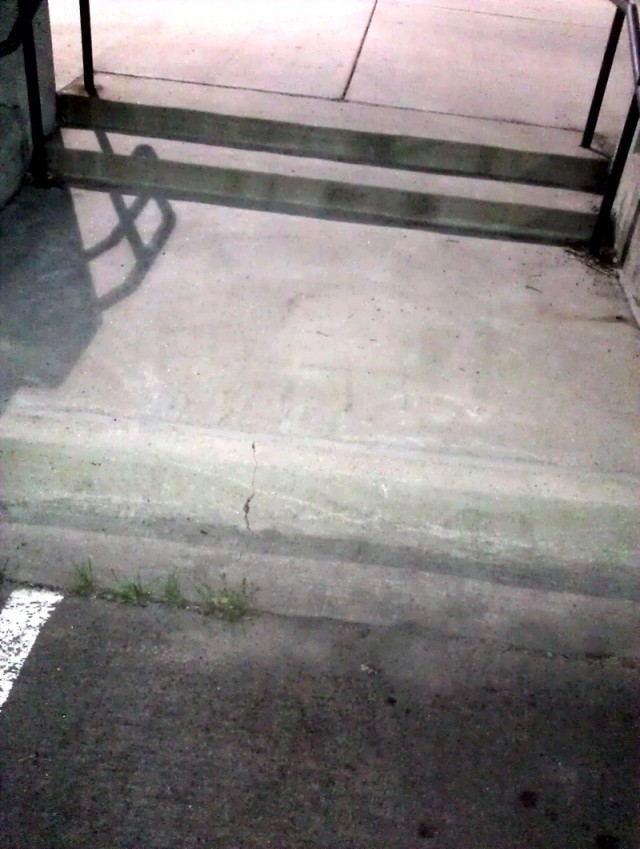 Now for the quick feet training part of the evening. Got quick ups and ollie down the 2 front 180 off the 1 which was way harder than I thought would be.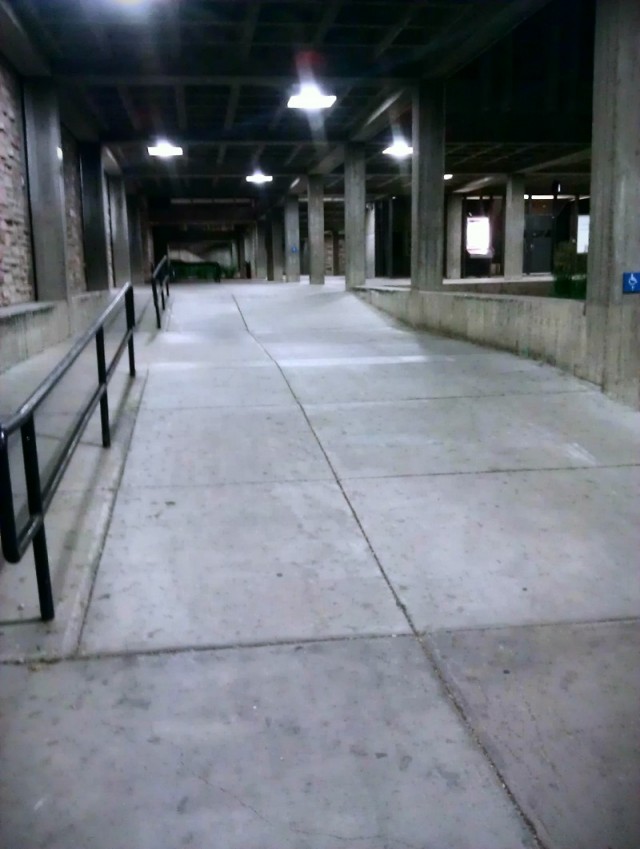 I walked up to this area next which is one of my favorite areas. I started wanting to do 360 flip into the first "bank" (it's downhill, but it's definitely not steep), kickflip into the next then manual one of the benches below. I got the treflip second try, bailed the kickflip then thought I would be able to get this quick. Nope, the next treflip took forever. Forever. And when I got it I bailed the kickflip again. Luckily I got another tre, got the kickflip, but didn't have the juice to ollie up the bench well and had to settle for a crappy ollie to ride to fall off the ledge. Neat. Everytime I went back to the top I would try a random flip trick. At one point I felt like switch b/s flips were doable. Silly me. Next I tried kick back tails on the little ledge at the top of this photo. I got one, but it took forever and I was going ultra slow even for me. Oh well, kick back tail!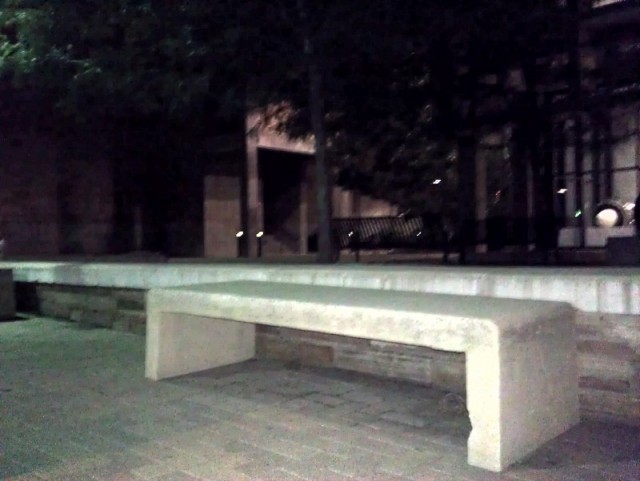 I took about 20 tries to ollie up this bench, then ollie onto the ledge, but it was fun when I got it.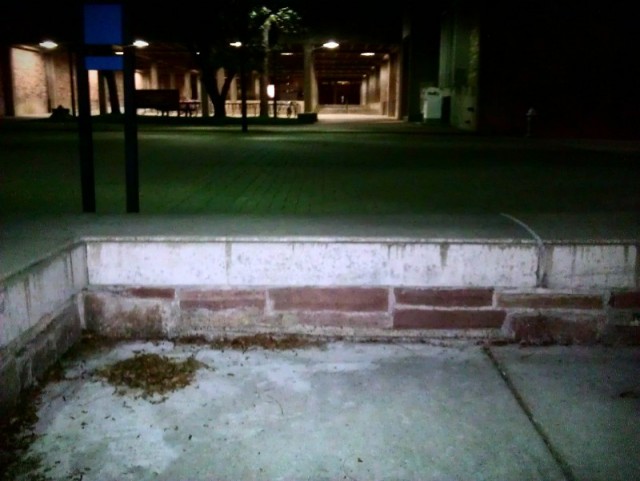 This is the trick that surprised me the most, I ollied over this. Didn't even take many tries.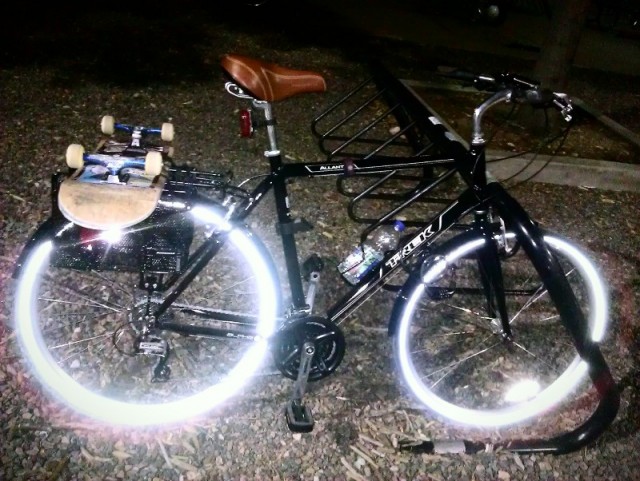 Then I walked back to my bike and rolled home. Isn't it funny how the reflection of the flash looks like I have ballin' ass glowing rims? I gotta say it was a good day. Ha, seriously though this day was a favorite of mine and reminds me of when I was skating around St Louis all by myself skating whatever I felt like. Skateboarding rules.