Posted in
Skate Journal
on September 28th, 2014 by corpo
Around noon Rob and I headed to our staple, the research center ledge. We started near the Max Rail goofing around. I love that area. Oh yeah, I was wearing some old Lakais I had lieing around as I wanted some cupsoles. The Marianos. They felt pretty good. We headed down the the ledge. I was really ignoring my achilles pain. Rob skates that ledge uphill mostly and I skate it downhill. He had some nice boardslide pop outs, halfcab boardslide, noseslide, crooks. Carleigh would show too and quickly did noseslide and kickflips. I guess since I had skated so much flat the day before I didn't put much into flippers. I tried crooks forever. Some felt amazing, but I wouldn't get out. Carleigh tried heelflips for awhile and got into front 50s. rob added crooks and manuals down the whole hill. Once I had gotten the crooks I started trying lines again. Front 180 up the curb, halfcab flip, crooks. I think I got that, maybe it was a noseslide though. Then I tried a line of front 180 up the curb, fakie flip, halfcab noseslide. But I couldn't get the fakie flip. It sucked. I seriously spent like an hour trying it. Even switched to slow and pathetic fakie ollies up the curb and still couldn't get the fakie flip after. I ended up just giving up on it. We skated there for quite awhile and our trick total was probably like 5 tricks. Ha. We went and hung with Jack at work for awhile.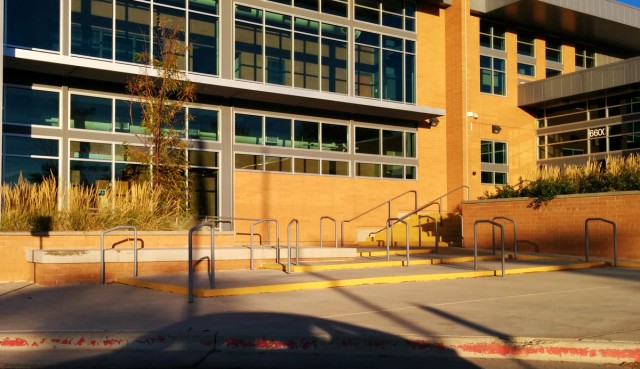 Jack thought of this spot so Rob and I went there. I was hoping it was shady, but it wasn't. It was quite hot. I couldn't even ollie up the little curb initially I was sore and my achilles was killing me. We pulled through though. First was some ride down manuals which were fun. Then ollieing up the curbs, etc. Rob and I did the main manual starting near the stairs and coming towards the camera. Neither of us got all that we wanted. I worked on kickflips up the glorified curb and eventually got one. I wanted to follow it with a kickflip off, but was going too slow and just bonelessed instead. Rob had a rad line up the stairs of ollie, manual and ollied out of the manual onto the top level. Super clean too. So sick. I ended by doing the quick up then ollie the little gap past the curb. That spot reminds me of Neil and I wish he would have been there to skate with us. :`(
Lots of skating so that was cool, but I got home and my achilles was really swollen. I did some research and that is not good at all. So I might not be skating for awhile. Knowing me it'll only be a couple days because I'm stubborn like that, but who knows. Not being able to even push comfortably is no fun.