Posted in
Best of Lists
on December 30th, 2014 by corpo
Yeah yeah, no one cares, but here's my picks.
SOTY: Easy. Wes Kremer. Dude kills.
Best video: Transworld Outliers. Brad Cromer!
Best video part: Chris Joslin welcome to Etnies. Sorry, it was the one part that motivated me more then anything else this year.

The line starting at 2:41 is my second favorite line of the year and the mach 20 treflip down the sidewalk after the credits is pure epic.
Best line of the year: Wes Kremer. The f/s flip at the end going mach 20 is the icing on the cake.

Best trick of the year: Chris Joslin bigspin at MACBA
Most disappointing video: Plan B Lies. Not even just because of the lack of PJ, but the editing is horrible, the music sucks and the skating is made boring. How you only show the bigspin at MACBA once is beyond me. And then slow motion TPuds standing there more then the trick? Whack.
Runner up most disappointing video: Enjoi Oververt. An entire video of 2 minute parts? Come on now.
Best creative part: Scott Stevens

This part definitely had me trying some new no complies for a few weeks.
Maybe actually the best part of the year: Auby Taylor

And why the hell isn't he pro? And why did Krooked blow it so bad?
Best part that makes me want to go to the east coast and skate ledges: Gavin Nolan welcome to the Zoo.

Best shoe: New Balance Numeric Stratford.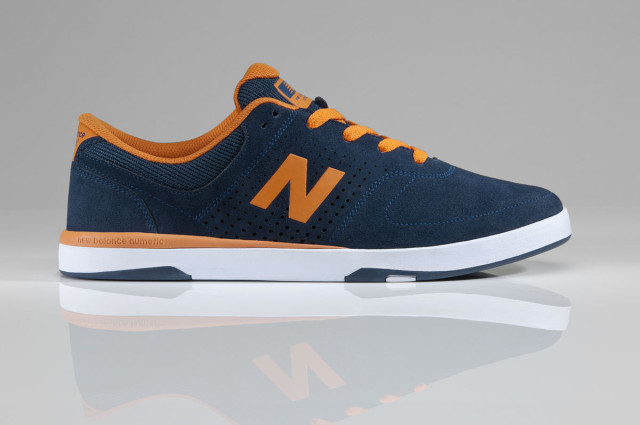 It's embarrassing to the skate shoe industry how much better this shoe is then anything else. And NB still isn't happy enough with the quality.
Best cover: Ryan Gallant kick back noseblunt Clipper. So sick!

Thing I am most ashamed of skate wise this year: Even more embarrassing then the fact that I love New Balance shoes is the fact that I don't watch skate DVDs so much anymore. This is mostly due to my kids basically owning the TV, but still, I mostly watch parts on my computer or phone now and that sucks.
Worst trend in skateboarding: The loose trucks speed check is the hipster tic tac.
Still the best transition skater ever: Grant Taylor
Tags:
and more
,
best of 2014
,
chris joslin
,
new balance numeric
,
scott stevens
,
skateboarding
,
soty
,
wes kremer