Posted in
New Deck
,
Skate Journal
on May 29th, 2015 by corpo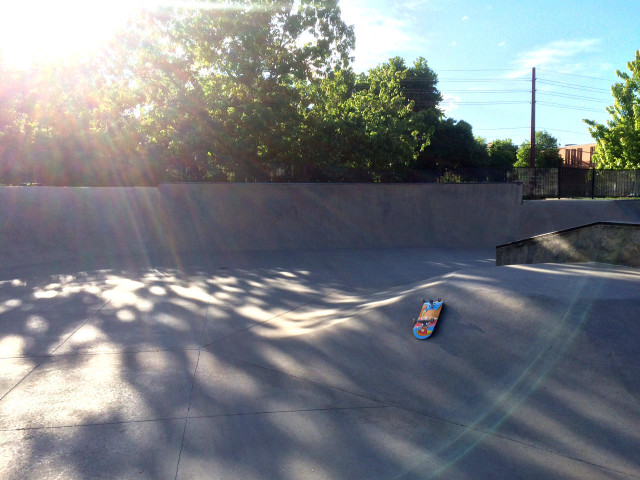 Woke up at 5:30 am and felt like skating. So I left early for work and stopped at Boulder park on the way. Another oldish guy was there getting some carves on in the bowl. I had a blast doing a few things, but I mostly skated the hip. Started with ollies and 180s both ways. Then went through a long spell of trying halfcabs going one way (so bad) then f/s cab the other way. I would eventually land the f/s cab, but man it was horrible. Then I tried a line where I started by the mini bowl and pumped over the pyramid, b/s ollie on the weird hump, f/s ollie the hip above, turn around, kickflip the hip above, turn around, b/s flip over the hip. Never got the b/s flip. Slammed pretty good once. Bailed out quite a few times. Then I went to work. This is the only way I can skate Boulder park, with no one around so I can skate slow in the middle of the park.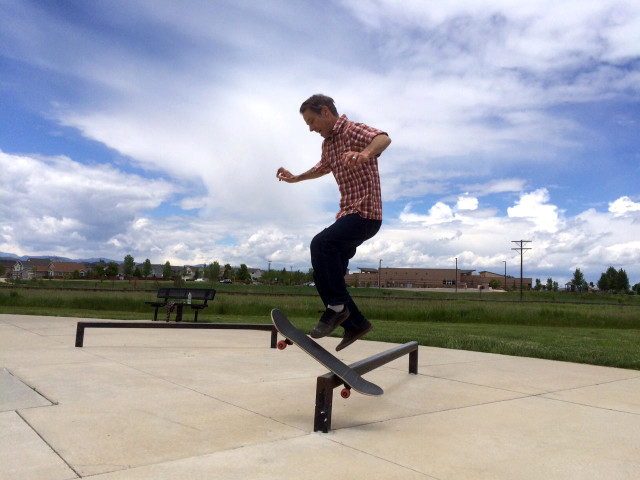 Then I met Dave at Blue Skies for lunch. Well, I got there first and arrived to two scooter kids and parents standing on the stairs near the bank watching. It was really annoying. I pumped around on the little banks before deciding I just had to go for the big bank. Did my ollie to fakie warm ups and had gone through a couple flippers when Dave showed up. We kinda did whatevs for a bit. I was hucking noseslide 270 shoves, front 50 shove, couldn't fakie flip on the bank. Dave did his fakie shove on the bank first try like he does and other tricks I'm forgetting now. Except for the no comply over the flat bar above. Well, he got close, but not quite. Then we got into a shove challenge on the bank. He did switch front shove and I did front shove first. Then we traded. Then we did regular pop shoves to fakie and lastly switch pop shove. I couldn't stay long at work so I felt bad having to leave so quickly after Dave got there.
(setup 8.25 null venture wide lights bones medium bushings 51mm stfs nb+ pj stratfords)