Posted in
Skate Journal
on November 5th, 2017 by corpo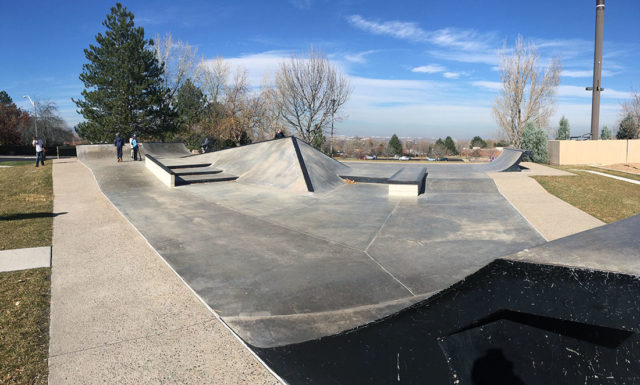 Jake and I skated in the street for a bit as we waited for Dave. I was 0-5 on kickflips and Jake had already landed treflip. Ugh.
Then we went to Kings Mill park. That park is rad. We thought the kids had the day off and we would have the park to ourselves. We did for quite awhile. Everyone was trying lines and I will never remember it all. Dave and I started slow. Jake was shredding out of the gates. He's young, we're not. Ha. Anyway, I remember Jake doing back 50 on the ledge, fakie 50 on it, front tail, crooks. He would normally hit a qp and or the bank in the line. He had some grind transfers on the hip, but didn't do his normal blunt or nosesblunt tricks. I tried a few ollies to fakie on a qp then turn around and bail back 50s on the ledge over and over. Argh. Some of the ollies to fakie felt fun even though I know none of them were anywhere near the coping. I tried a line of front 50 the ledge then 360 flip off the little bump (by the scooter kids). I landed on a bunch of them and eventually got a 360 flip. It felt rad even though I tic tac'd like crazy. I tried to back it up with a front rock on the qp then ollie onto the taller part of the ledge which I had done earlier. Didn't get the ollie up though. After that I couldn't even commit to crooking the ledge. All the scooter kids that had shown really wore on me. Dave had a bad slam tring a 180 nosepick over the A frame, but other then that he ripped. Boardslide transfer the A frame, back tail the bank (inches away from scooter kids heads), 5-0 the ledge, front lip the hip qp, front tail the reg qp. When we were ready to go he kept skating and skating. He didn't get the front nosegrind though. Doh.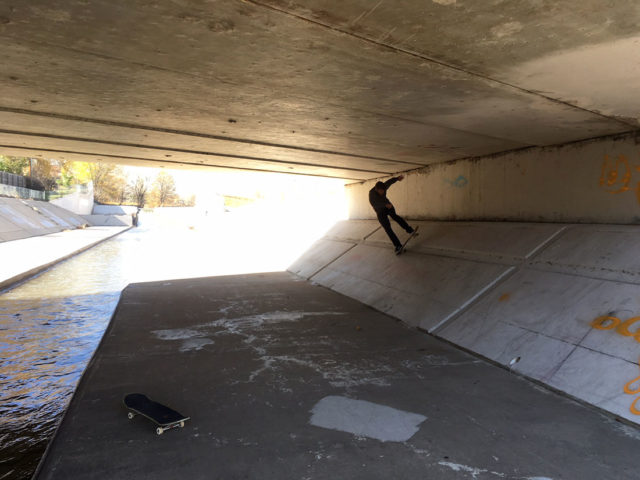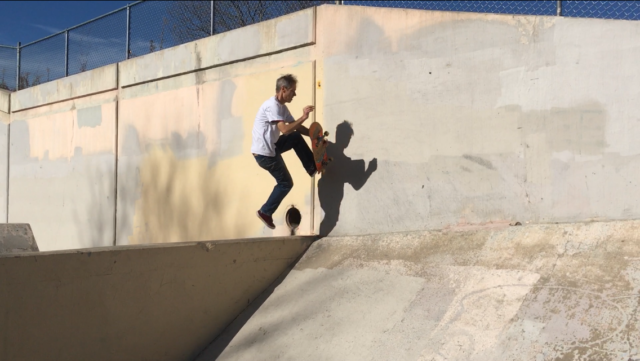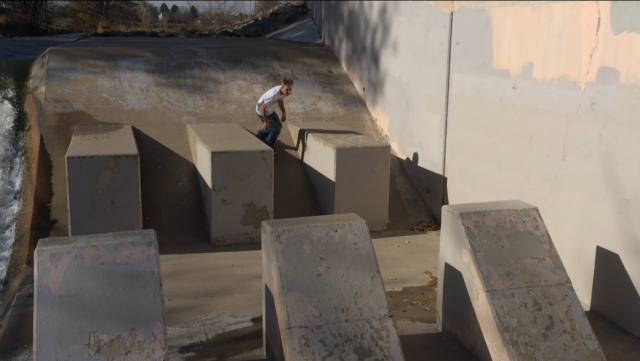 The scooter kids got really bad so we left for Winona ditch. The river was running heavy which made it even scarier than normal. We started in the grindable bank area. Jake got back 5-0, but couldn't quite get back 5-0 to fakie. I just did some little backside slashes. Dave slid some bluntslides, but never pulled in. We took turns watching for boards shooting out, because that river is gnar.
Then Dave and I dropped into the hip section. It's so scary. I had to work my way up one foot and a time. Dave did the whole dropin I think. Neither of us put any tricks down though, we were too scared. There was water in the landing which made it worse too. So the photo of Dave's boneless is prime for poser of the month. Fun day with these dudes.
(setup null machine 8.5″ deck, venture 5.8, venom 88a bushings, 52mm bones stf v5, new balance numeric 212 navy size 11, spenco 3/4 thinsoles, footprints 5mm insole)