Posted in
Product Review
,
Shoe Reviews
on April 22nd, 2013 by corpo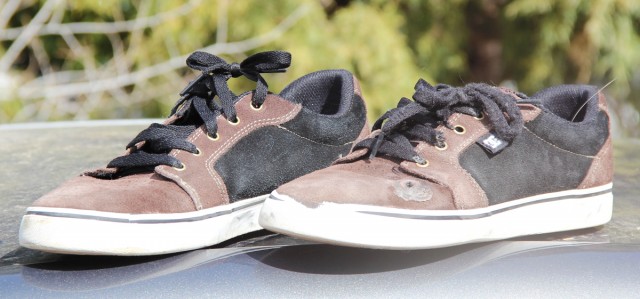 These shoes lasted 15 skate days
Rating:





STYLE
Rating:





COMFORT
Rating:





BOARD FEEL
Rating:





BREAK IN PERIOD (Good rating means quick break in period)
Rating:





SOLE DURABILITY
Rating:





UPPER DURABILITY
Rating:





OVERALL
DC is as corporate as I will go with a shoe company. Wes Kremer rules though and it was about time I support my fine friends at Motive and get some shoes from them. I wish I could have tried them on as it seems DCs run smaller then other skate shoe brands and I would have liked a bigger size. Oh well, they are vulc so they stretched out and ended up fitting great. Other then the ugly brown/black colorway this is one of the best shoes I've had in awhile. The board feel was great, they were ready to skate pretty much right out of the box and they held up well. They should give up on the "Super Suede" saying though, I had to shoe goo the toe just as quickly as any other shoe brand with normal suede. All in all though a great shoe that I was really impressed with.
Tags:
anvil
,
dc
,
shoe review
,
skate mafia
,
skate shoe review
,
vulcanized
,
wes kremer