Posted in
New Deck
,
Skate Journal
on January 30th, 2018 by corpo
Dave picked me up and we went to Southern Hills looking for dry. One side of the benches were dry and there was a lot of flatground so we went for it. Warming up was not easy. Three days off for me is a lifetime. Ha. Oh, I had another new sample board. This one was 8.25. It felt really good. Southern Hills is hard to skate. The ground is rough, there are lots of cracks, the ledges don't grind. Dave was trying boardslides to fakie on one bench then halfcab noseslide the next one. Amazing line, but I don't think he got it like he wanted it. I got a couple crooks. I was trying a line of front tail stall shove on the one stair, fakie flip on flat, halfcab noseslide a bench. Never got it. I think I chickened out and just tried switch front noseslides instead. Saul and Fuzz showed up at the same time. Saul cruised around for a bit , did a couple front 50s on the one stair and bounced. Fuzz warmed up with some solid pushes, boardslides and noseslides (I think). Then randomly I ollied this little snow gap and it turned into a session. My first ollie was the only clean ollie I had. Dave and Fuzz were able to do 180s pretty quickly. I couldn't. So I hucked kickflips instead. I wasn't committing though. Fuzz said "It's because you're wearing a Lakai beanie with Es shoes. You can't mix brands like that." I laughed and threw my beanie on the ground. Then we realized I was wearing an Independent crew, but skating Ventures. So I took that off. Then we both cracked up upon realizing I was wearing a NB# shirt. I hesitated, but knew I had to shed it too. We were laughing. I think I got the next kickflip, but it was pretty bad and Fuzz didn't film it. Then I got the slightly better one. I was pretty hyped and put my clothes back on. Then we dorked around on the stairs. Fuzz had several drop down combos. They were so sick. Dave and I tried to hang, but Fuzz had the moves.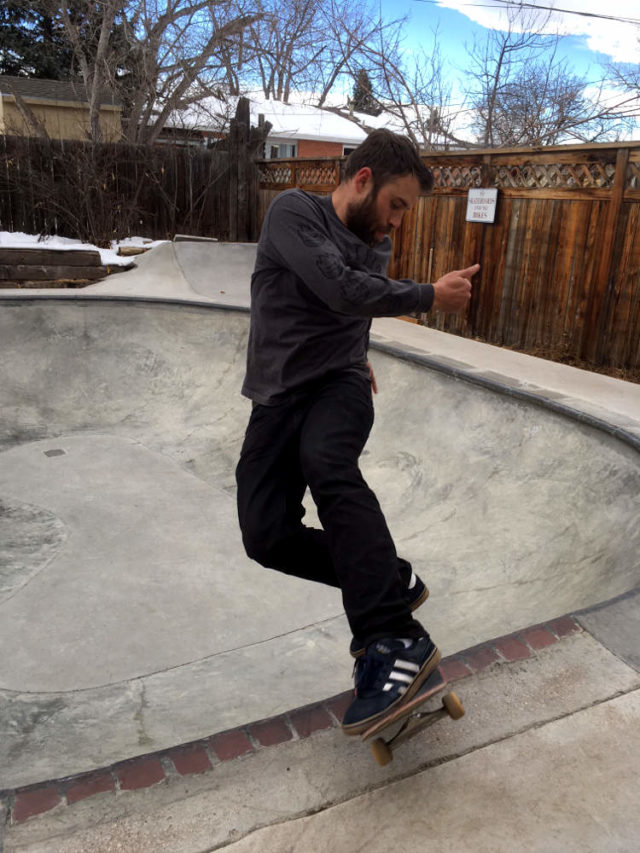 Then we went to Saul's. There was a decent sized crew of awesome. Saul, Eric, Jake, Josh, Will. I was impressed with Fuzz's first few runs. He kept his speed and flew around the bowl. Everyone skated well it seemed. Saul had the quick lines, stand up grinds and it was funny when he bailed the grab to tail he has been trying. Will rips. His front 5-0s are so good and he took awhile to get a fakie nose pick. Dave flowed like water as always. He did a lot of tricks including a super long boardslide. Eric did his first back 50 all good, then proceeded to struggle with the next few. Ha. He ripped too. I didn't skate so good and was getting really sore quick. So I mostly took it easy. Jake was the first of Josh, Will and him to land a front blunt. He also got a nosepick. Josh is one heck of a nice dude and fun to skate with. Oh and he rips. I think that's everyone. It was fun. Thanks for having us Saul.
(setup 8.25″ clutch sample deck, venture 5.25 awake lows, 50mm bones stf v1, 3 washers on the inside of each axle, white venture bushings, es swift 1.5 grey size 11.5, custom orthotic insole)