Posted in
New Deck
,
New Shoes
,
Skate Journal
on September 21st, 2017 by corpo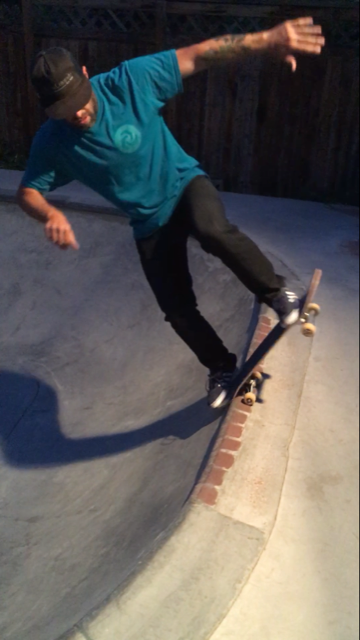 After a busy day at work, a nap and some dinner I finally got to Saul's with a new deck and new wheels (Monico 8.3 and Spitfire 52 radials). I was hyped when I arrived and Jake was there too. The bowl looked so fun, it's been too long. Jake was going for a long run when I got there that involved a blunt to fakie at the end. It had feeble grind, front 5-0, tailblock, etc before it. Saul had already skated earlier in the day and was still getting it. Hell yeah. His runs with the quick carve grinds are amazing to watch. So fast. I took a few tries to get a carve grind again, but when I did I had it and it felt sooooo fun. A few years ago I learned slappy crooks which have become one of my favorite tricks ever. I would put carve grinds up there too. Somehow with my new setup I kept ending up doing rock fakies in the shallow and after a tail stall I would be setup perfectly for the hip. So I went with it and several tries later got a very sketchy/slow shallow to deep 50 over the hip. I definitely lifted onto my front truck and stuff, but whatever, it felt so rad. A bit later Saul did a sitting kickflip. It was rad. Jake has a tendency to bet me a 'cider' to land a trick. He often ends up owing me a cider, but I never take him up on it. Anyways, I told him he would have a clean slate if he landed the blunt to fakie. 4 tries later he did it. So sick! And then he was out. Saul went at the hip for a bit too. We did it after rolling in then axle stalls, it's the perfect angle. Things got a little sketchy as it got dark so we called it. Fun night, I want to skate there more. I wish life wouldn't get in the way all the time.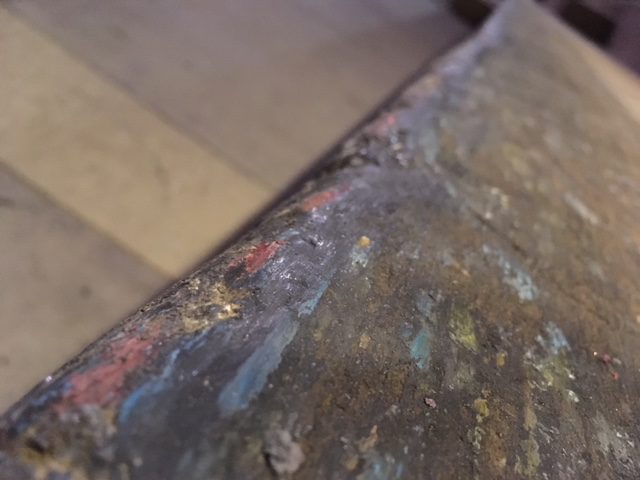 I was supposed to do some errands, but I wanted to grind more. I went to the default of the research ledge. I was happy leaving Saul's, but the hype would quickly fade. They have these buses running all of the time there now. So every 5 minutes a bus leaves and a new one pulls up. It's annoying and it added to my frustrations. In fact my first noseslide attempt was terrible and my board shot under a bus. I had to climb under it and get my board. I should have known to leave right then, but I'm stubborn. Never got a boardslide pop out. Got noseslide and noseslide to fakie. Got a couple terrible back 50s with lots of tic tacs, first try crooks, but then couldn't do it again. The worst halfcab noseslides. A front board pop out first try. But could never get a front 50. The ledge is getting chunky. It's not fun anymore, every trick is a battle and the buses make it even worse. I think I'm going to say RIP to this ledge. I need to go to start driving to parks when I want to skate a ledge. Boulder doesn't have any ledges. Ugh. I went home bummed on the ledge, but hyped on Saul's. Maybe I am finally starting to like transition skating.
(setup null monico 8.38″ deck, venture v-light 5.8, bones medium bushings, 3 washers on the outside of each axle, 52mm spitfire f4 radial slim, new balance numeric 212 sand 11, spenco 3/4 thinsoles, footprints 5mm insole)