Posted in
Colorado area skate photos
,
Colorado Skateparks
,
Skate Journal
on February 10th, 2013 by corpo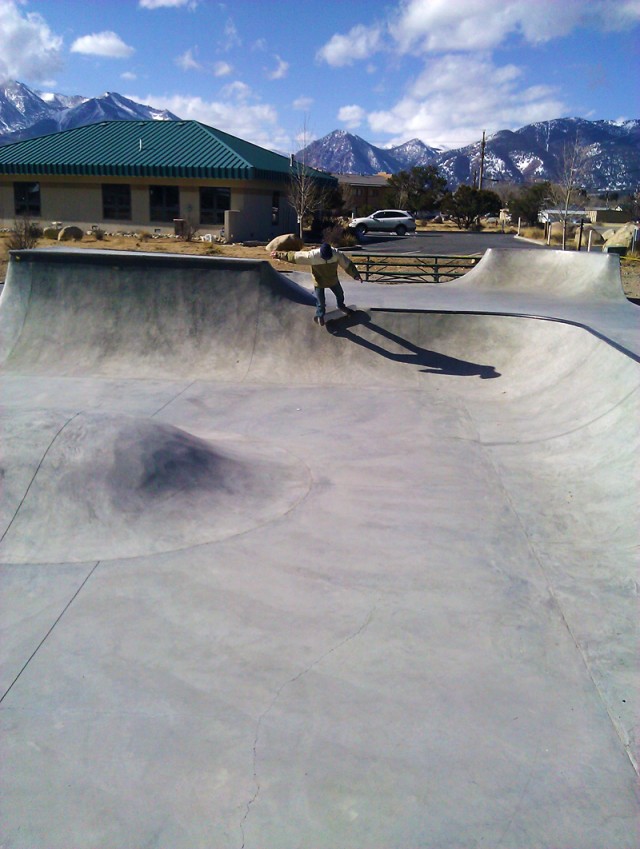 Went up to my Mom's house in Buena Vista because my brother was in town. We got up super early, ate breakfast, then went out, got some caffeine and dropped my mom off at a quilting class. Steve knew I would want to skate the park with him a little so he didn't even try to skip it. We had fun. I had brought an extra board for him to skate and he made due. He carved around the park quite pretty good for only skating a couple times a year and trying to act older than me. Other then a carving around his only trick was a little 50 on a weird corner thing (yes that really is the best description of it). Click here for the quicktime of it!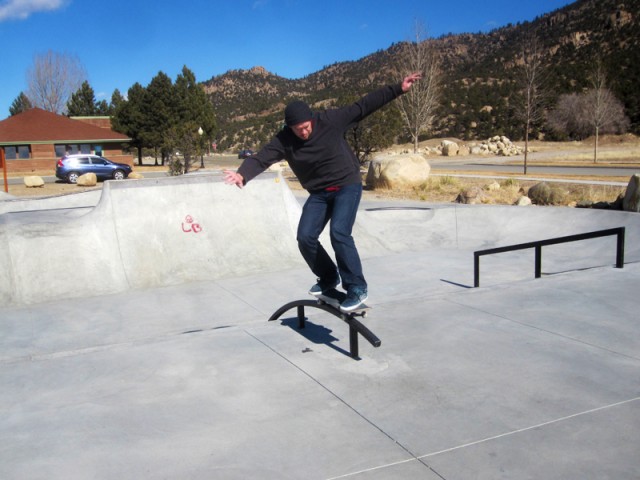 I forgot to mention how cold it was. 18 degrees. With the sun it didn't feel that cold, but when the wind would pick up, brrr. I was still really sore from the long red curbs session with Dave, but I knew I wouldn't have much time to skate so I tried to get it all in. I bet the kids in Buena Vista were hyped on this rainbow rail until they realized the would have to drop in on a kinked vert wall to get to it. It was really fun to grind over though. And considering I gave up grinds on flat bars a long time ago it made it even more fun. Maybe I should try again. I found some little lines in the park cruising around. Here's a movie I didn't know my brother was taking (otherwise I would have done a frontside invert). For all the stuff that's packed into that park the small tranny section really is hard to keep speed. My favorite line was a little front scratcher on the noping wall behind Steve above, roll into the roll in, pump over the roll in hip, slappy the rainbow rail, then front rock the little qp above it.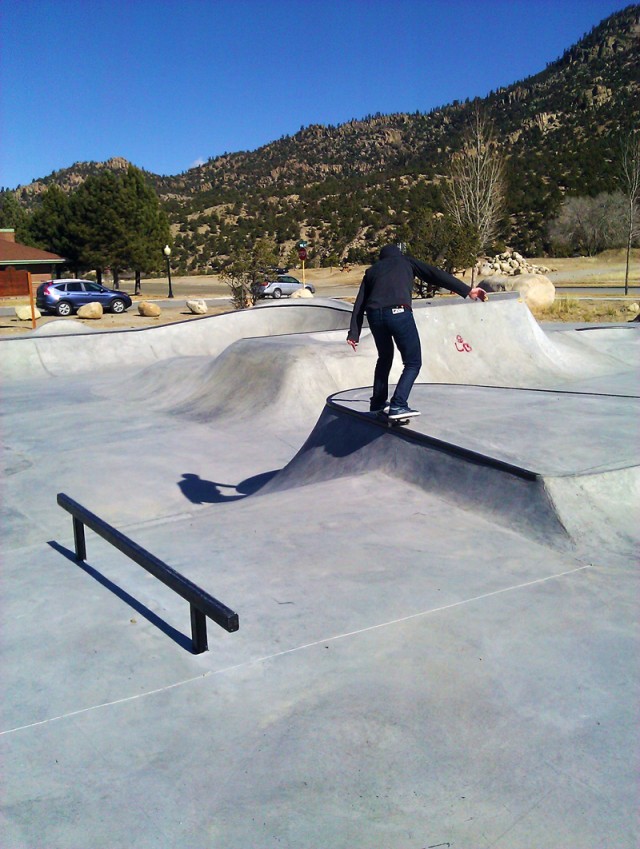 This one took me a bit. Front 50 that I would turn to front tail then drop in. It's the only ledge in park (there is a backside one too). It has square coping and it's really weird to go into tranny off square coping. The funniest thing is this wasn't the only tranny with square coping. Whack. Some of it is even placed level so you grind on a corner of it (like a diamond). Anyways, this was pretty frustrating, but the only real trick I did.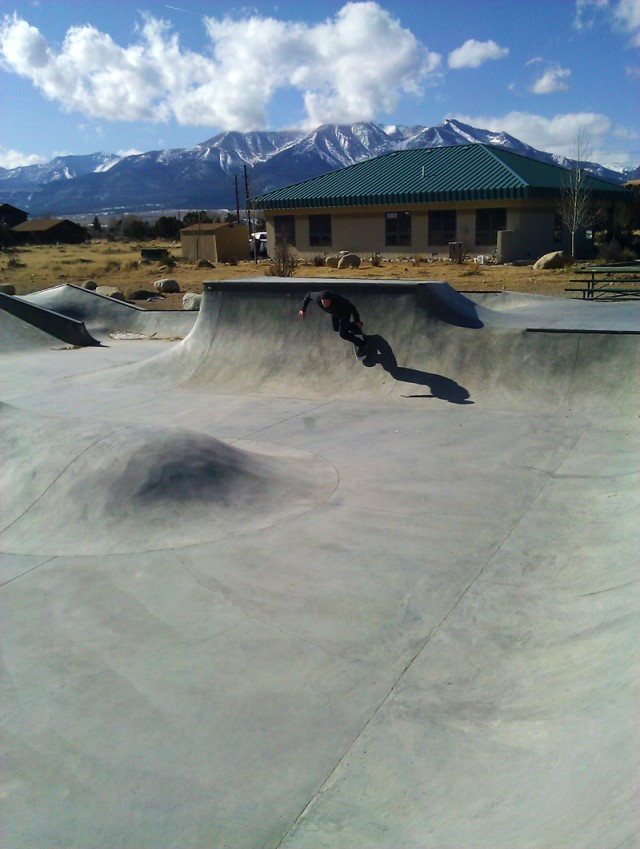 Last thing I really tried was a little scratch grind on this wall. I think it goes to vert. I carved tile a bunch, and got the wheels halfway onto the pool coping, but couldn't quite get a grind. Doh. My brother took the photo with my delay ridden phone and that's the closest he got me to the top. I may have gone past my welcome as Steve was wanting to go pretty bad so I finally left.
I've finally skated the Buena Vista Skatepark. Yippee. My review of it is a 3/10. The reality is it sucks pretty bad considering todays skatepark standards in Colorado. Square coping on tranny? Whack. Kinks all over the place. I can't even imagine what the crash up derby factor is as we were the only ones there. No flow. The funny thing was two high school kids were skating the old park. In most ways the old one is better for beginner skaters so I could see them avoiding the new park. That and there is basically no street stuff at this park. And the few "street" oriented obstacle have tranny in it anyway. For a town that has no street stuff to skate I imagine the kids are pretty bummed. Well, the kids that want to skate anyway, I bet kids with BMX bikes are hyped.
Tags:
boring ass commentary
,
buena vista
,
buena vista skatepark
,
colorado
,
skateboarding